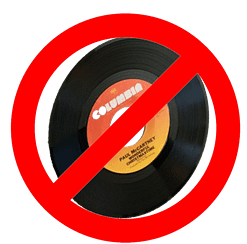 This year, I got knocked out on November 11th!
That is a record (pun intended).
John Tarman and I play a holiday game every year starting about now. It's called Dodgesong. But I'm already out, out as of November 11th while innocently walking through a Walmart parking lot.
Holiday Dodgesong Game
So one of my favorite holiday traditions is playing Holiday Dodgesong with John Tarman. In Holiday Dodgesong players try to see who can go the longest without hearing Paul McCartney's 1979 dirty ditty, Anthem for the Commercialization of Christmas, Ballad of Bah Humbug, Psalm of Psychological Torture, Shanty of Sh… (well you get the idea), it's the Christmas song "Wonderful Christmastime." Once you hear the music you're out. Once you're out you must immediately call the other players to declare you've been taken out by the mass-market holiday song. After making the declaration you may freely begin complaining about the start of the "Holiday Season."
The complaints are not about Thanksgiving, Black Friday, Cyber Monday, Yule, Hanukkah, Kwanzaa, Advent, Festivus, Christmas Eve, Christmas Day, St. Stephen's Day/Boxing Day, Winter's Solstice, New Year's Eve, New Year's Day, or Epiphany specifically. But the grievances usually center around commercialization, broadening marketing scope, and premature holiday cheer-ulation.
Some traditional criticisms are how you're not ready for Christmas, how Christmas creep annoys the hell out of you, how everyone has missed the true meaning of Christmas, etc., etc. You may pontificate on any other pre-holiday gripes you may have once your ears catch that tune. An especially popular expressed beef is about wives oozing with Christmas cheer in early November.
It should be noted that the winner, the last player to report hearing the song, receives nothing for their victory. The satisfaction of a holiday season without "Wonderful Christmastime." is rewarding enough. The trick is not to go anywhere with holiday music playing until the other player has gotten knocked out. I think I made it to December 23rd one year. That was a happy year and a perfect time to start holiday shopping.
Don't get me wrong; I'm a huge Paul McCartney fan, my friends can attest for that. I was even accused, in the late 1990s, "If Paul McCartney made a CD of him farting, you'd buy it." I'm a big fan.
But that song blaring through some retail establishment's PA system makes my teeth sting! I think you'd all agree; it's nauseating.
So, since I'm out, I thought you might comment below when and where you first hear the song this year. Gripes are bonus points.
Oops! You're out! You can start complaining!