What is your best Father's Day Gift – Given or Received?
Please leave a comment about this gift!
My best Father's Day Gift was when my mother gave a homily for the Salem Presbyterian Church titled A Tribute to Fathers and mentioned me.
It was very moving, and since she called my stepfather and me out specifically, it causes me to cry every time I read it. I offer it here on my blog this year as it reminds me of what she thought a good father should be. I believe I have fallen short at times over the past 18 months or so (the pandemic has had its casualties). Her words certainly reminded me of what I should be striving for and why.
I love you, Mom; you are still teaching me what it means to be a good parent.
Here is what she said in her Tribute to Fathers:
A Tribute to Fathers
Donna S. LaFollette
I have been blessed – blessed by knowing many wonderful fathers. Today I'd like to mention three—actually four—that I've had the privilege of knowing.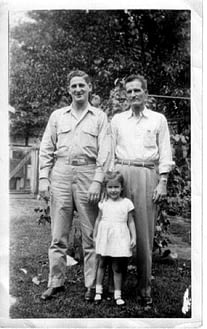 The first is my own father, Richard Emmons. One of the biggest regrets of my life is that I didn't get to know my father in my independent adult life; he died when I was 22, shortly after I was graduated from college. However, I still learned much from him. He taught me that I could do whatever I set my mind to, no matter what.
I remember the time that my sister told Dad that she wanted to be a batboy for the Indianapolis Indians. This was in the fifties, but I'm sure Dad tried everything to make that wish happen. But, of course, it didn't. When he sat my sister down to tell her she couldn't be a batboy because she was a girl, he looked at her face and cried. We were taught that gender shouldn't matter.
Dad also taught me the love of reading. When I was little, on Friday evenings, the whole family went out to eat and then to the library, where we all got books to read for the week. On Sunday mornings before church, I'd crawled up on Dad's lap, and he'd read me the comics. When I got older, Dad let me read what he read even though some parts were beyond my comprehension. We always talked about what we read.
I learned a strong sense of right and wrong from my dad.
One day when we were at my grand Parents' Cabin on Lake Freeman in northern Indiana, Dad, Papaw, and I were fishing from the pier. I spotted a snake and cursed. I looked at Dad. Then I raced up the 72 steps to the cabin and jumped in bed. I didn't run up those stairs because I was afraid of the snake or Dad (He didn't believe in physical discipline.). I ran up those stairs because I had disappointed Dad. I never wanted to disappoint him, even in my rebellious teen years.
Another father I've had the privilege to know is my husband, Bill LaFollette. Bill is a loving Parent who basically stays in the background until he is needed. He is always the first to help any of the kids—mine as well as his—in any way he can.
Bill is always ready when one of our kids or grandkids needs him. Often, they don't have to even ask. They might get some information in the mail or wake up to gas mysteriously pumped into their cars or clean cars or a mowed lawn or money that is needed for unexpected expenses.
When my daughter, Marla, had her surgery in Florida, Bill went out and bought a new van so Marla and I would be safe in our travels. When we drove to Florida, he insisted on driving us down. He went with us to our pre-surgery appointment. Then he flew back to New Albany. He flew to Jacksonville for the surgery, flew back to New Albany, and then back to Florida when it was time to drive home.
Bill is not only a good father to our children; he also helps anyone who needs his fatherly care. He received a Father's Day card this year from a young man who is incarcerated. Bill has forgiven him his mistakes and writes to him, visits him, and supports him in any way he can. I believe that Bill has made a difference in this young man's life just as he has made a difference in my life, his children's and grandchildren's lives, and my children's and grandchildren's lives.
The third father I want to recognize is my son, Michael Ratliff. It has been a privilege to watch Mike's active, involved parenting. I remember when Emmons was born and there was some worry about complications. Mike in his green hospital scrubs and cap came into the family waiting room calmly and told us of the problems. He never once showed any lack of confidence that his and Penny's baby would be all right. When I first saw Emmons with all the wires and tubes attached, I hesitated touching him for fear I'd hurt him. Yet, Mike was there gently with his large hands caressing the baby with all the love imaginable. He changed Emmons's diaper and gave him his first bath under the heat light. Mike was an involved father from the beginning.
After the birth of Elias (He gave us no cares; thank God.). I have watched Mike play with the boys, discipline them, bathe them, dress them, read to them, teach them. He shares in the raising of his children with his wife, Penny.
Mike recently joined the Masons at the lodge where my grandparents were members. Through this Mike has gotten to know from the history of the lodge and from some of the elder members another loving and gentle father, my grandfather, Harry Emmons, who never was afraid to cry to show the emotion he felt for the love of his family.
In closing, with these stories of the fathers in my life, I wish to honor the fathers in all our lives. And to all the fathers here today, an anonymous quote: "The greatest gift I ever had in my life came from God, and I call him Dad."