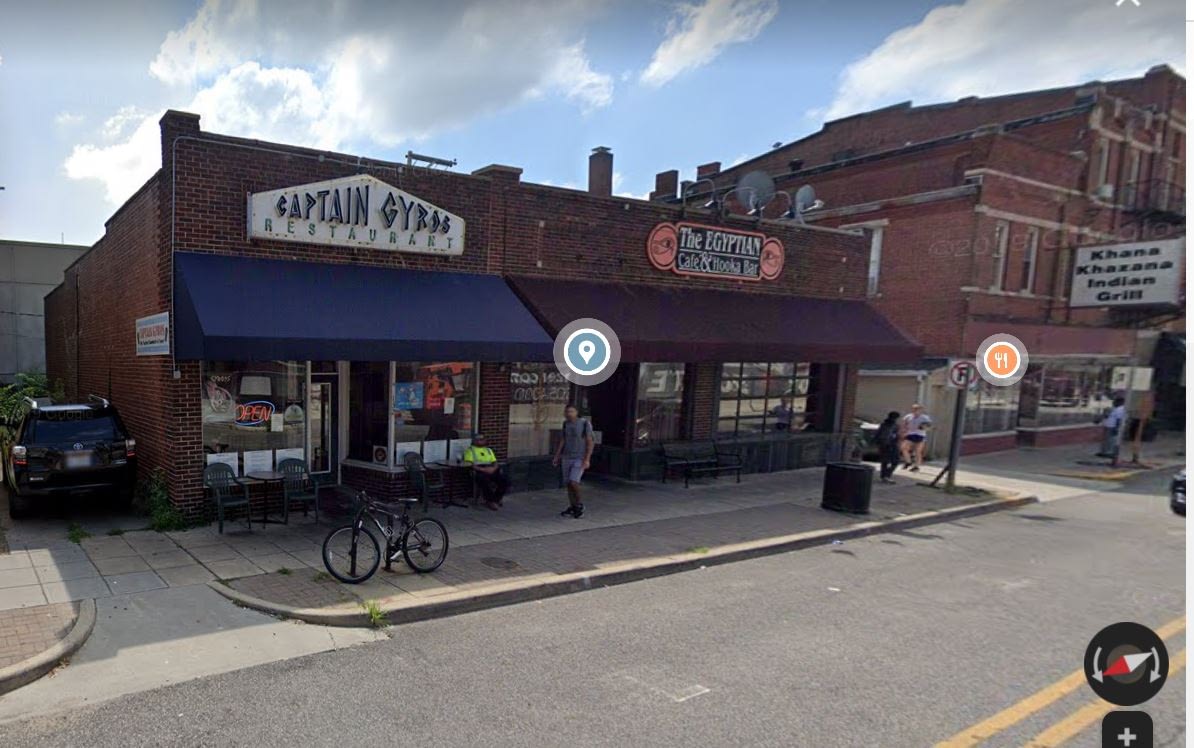 Updated: Thursday, December 6, 2022
This Purdue reminiscence

may be way too obscure

. Yet,

every alumni remembers a walk down Northwestern Ave to Chauncey Hill mall or Harry's. And

I imagine a few Purdue

alumni from the late '80s and early '90s will remember the Exponent's comic strip Art Gallery. Even so, you probably never noticed one of my favorite hangouts.
I would love to read about your favorite Purdue hang out? Others would like to read about your hangouts also. Please describe that place in the comments.
*** I imagine Harry's will deserve a post all its own.
Do y'all remember Mark O'Hare?
It was about 3 blocks from my Fraternity.
Unless you had a closet full of tie-dye t-shirts, Birkenstock sandals, and skipped a few showers, I might tax your Purdue reminiscing ability with this memory. A button-down collared, hippiephobe type dude in my fraternity refused to walk on the same side of the street as the off-campus landmark, one I hope to help you to recall. On the other hand, I could walk in both worlds, hippie and frat-dude, and demonstrated it daily by walking to my favorite hangout at 132 Northwestern Ave. That address now houses a Greek Restaurant. But in the late '80s, the brick facade had a white paint coat trimmed in sky blue and a sign out front reading, Blue Café.
The owner, Iris, an immigrant from somewhere in South America, would give us a hello with nothing more than a heavily accented grunt as she sat gazing out the windows of her café. I remember her always looking tired as if making the daily special pasta salad thoroughly exhausted her. Thinking back on it, I might now attribute her thousand-yard stare to a harrowing escape from the rath of a South American dictatorship. But, as an undergrad, I was too self-absorbed to inquire. So, we will never know.
Darren, the waitstaff/dishwasher, which I imagine received little more pay than a full meal, would serve us our $3 usual, a bottomless cup of coffee, and a loaf of sourdough bread. We'd sit there, get jacked up on caffeine, and chat for much of the first hour. Each of us would note the time we needed to head back to campus for our next class.
Most days, Mark O'Hare sat on the edges of our group drawing the following week's Art Gallery entry for The Exponent. Having that little bit of lead time over the rest of the campus to read his comic strip gave us a smug insider feeling, like a spy knowing some remarkable "TOP SECRET" intel. A feeling later vindicated when Mark became a big-time animator for such shows as Ren and Stimpy and SpongeBob SquarePants.
If you were lucky, you'd head off to class before the chess boards came out. Because once the Staunton pattern pieces met the vinyl green and white checked mats, folks would be trapped, only looking at their watches with a cursory, "Damn, I missed that class. I'll make the next one." Suddenly, Iris came alive with the games underway, her accent vanished, and her attention honed in on the boards while declaring, "I've got winner." She wasn't a terrific player. Yet, she won most of her games, most likely because she did provide the all-you-can-eat sourdough bread and coffee for $3. Heck, we knew that was an unbelievable deal, even in the late '80s.
Iris would try to supplement the profitless weekday bread and coffee sales with live music and candlelight dinners on weekend evenings. She would cram a two or three-piece ensemble into one of the front window nooks. The preppie/hippie dichotomy of my fraternity, ΔΧ, even produce a poet songwriter named Corry Rope, who scored several of the Blue Café gigs. I became very impressed with this upperclassman for his grand accomplishment.
I found this wonderful footage of Grand Prix Weekend 1991.
Paul Burch and Marc Tobalski are playing a gig at the Blue Café.
I don't know these guys, I just ganked the video off of YouTube.
Yet, I regretted his appearance at my hangout because of one incredibly embarrassing candlelight serenade. In the middle of his guitar set, accompanied by a guy beating rhythms on a five-gallon pickle pale, Corry catches me, Andrew Jerman, and John Tarman sneaking our way to the back of the dining area. Corry then starts inserting my name into bawdy, improvised lyrics. The crowd roared with laughter at my expense. That was probably the only time I ever had the desire to exit the Blue Café.
This bizarre café with a cartoonish Beatnikesque ethos on the edges of Purdue's campus has become the measuring stick for all other coffee houses I have ever discovered in my life. Noplace has ever measured up, probably because I have mythicized the place a wee bit. Yet, I still seek it. It must have a starving artist archetype sitting in the back. We didn't have Jack Kerouac, but we did have Mark O'Hare. Gaudy music and poetry must ooze through the walls, staff must have mysterious backstories, and diverse people should meld into a heterogeneous group of patrons. The new café should boast pseudo-intellectual conversation that diverts one from any meaningful action.
If you can find any place with all that for three bucks, I'm there, baby!
Like my post? Here is a post with similar themes of nostalgic Purdue hangouts, Bangert: More tales of the long, lost haunts near Purdue. His joints are not as obscure as mine. Dave Bangert with the Journal & Courier, Published August 18, 2018.
Highly unlikely, but are there any photos of the Blue Café?
P.S. I took a little poetic license describing Iris. She was incredibly kind to all of us students and inspire the strong memories of her magical place. She was always pleasant, bright, and social.