The Immaculate and Infinite, Holy Plastic Wrap Roll – A Single Dad's Hack
Here's an example of A Single Dad's Hack that tries to spread joy and builds family traditions out of the most mundane things.
Let everyone know what you've done to keep joy a part of your family culture. We can collect a list of those acts in the comments.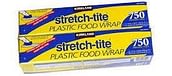 In the first year after the divorce, 2010, the boys and I had a Costco membership. Sometime during that year, we bought a double pack of Kirkland's Stretch-tite Wrap'N Snap 750 (DUDE! THAT'S 750 FEET). You can't get any more F'ing mundane than that purchase. There is no way my sons have an actual memory of the event as they were young children. Yet, ask the boys, now in their late teens, about the mythologized Costco trip. They will tell you every esoteric detail about a miracle with long-term effects on family food storage. They might not do this with long-gone childhood enthusiasm; adolescent apathy trumps all for goodness' sake. Yet, their tone and posture will suggest a repressed smile on the inside. I know that smile will reemerge later in life, maybe with a nostalgic tear tugging at the corner of their eye. Hopefully, it will spring forth while having a miracle with their own children.
We all know how important it is to make joy out of the little things in life—these little joys bond families. This is sound truth. However, for Dads (and moms) in the middle of divorce's bitterness, attacks, destruction, and even the healing process, that truth is often forgotten. There is no way to coach someone on how to make those little joys. My mother taught me the truth through the experiences of our lives. I hope sharing a few examples might help other parents remember the fact. I'll start with that damn Costco plastic wrap.
Over the years, I encouraged and modeled astonishment for how long that first box of Stretch-tite lasted (DUDE! IT'S 750 FEET). It became a running family joke that we had the Immaculate and Infinite, Holy Plastic Wrap Roll. I encouraged the ongoing joke by playing it up, acting silly, and recalling it every holiday. I held parodied religious ceremonial rites while bringing out the role to cover-up holiday feasts' leftovers. It didn't take long till the boys took over the shenanigans, joyfully becoming High Priests of The Holy Order of Plastic Wrap Rolls. I hadn't notice or even understood what I was doing till after my mother died in 2018.
I now see I was unconsciously following my mother's lead in developing family bonds. Maybe this is a Dad Hack derivative of an old Mom Hack; everything old is new again. Throughout my childhood, we would have odd family traditions. One such custom centered around singing an over the top, mom composed, serenade "I Gotta Pee! I Hafa Pee!" We sang this funky aria in the family car after some unfortunate soul announced a pending call of nature. The song consisted solely of improvised recitatives referencing anything to do with flowing water. Mom sporadically interlaced loud operatic flourishes with the recitatives. "? I Gotta Peeeeeee! ♫ ? ♬ I Hafa Peeeeeee! ? Baaddllyy! ♮♫♭♩" How freakin' stupid is that! My sister and I still sing the song. She remembers the song often had the addition of pressed breaks in sync with the song's beat to offer an extra jostling of the bladder. We have since discovered my grandmother actually composed the melody and lyrics. The song caused my mom and aunt to pee their pants, supposedly on more than one occasion. Mom had merely plagiarized. How freakin' genius is it that!
I now carry this mantle for the fourth generation. The boys never really caught on to the song. Peed pants were not a funny thing to them owing to some Top Secret misadventure. Dad's must roll with the changing times. So, plastic wrap became a thing. I traditionally note on most holidays, if Hanukkah honors the miracle of having only enough untainted olive oil for a single day, and God stretched it to eight nights to keep the menorah's candles burning, then we must have something going with this cling wrap roll. We are a family blessed with cling wrap! Brief bits of absurdity followed that declaration.
My mom, Donna Emmons LaFollette, Nonie to my sons, gave me another fantastic gift for family bonding. This hack is all hers. I was completely cognizant of this one as it occurred because she explicitly talked about it. I think most divorced dads understand, there's a bit of maternal bias in our culture when it comes to children's homes. (Time out – the initial draft included about 12 sentences or so of ranting that had nothing to do with this paragraph's thesis sentence above – saved for a possible future post – Time in). Amazingly, my mother understood this and wasn't the slightest bit defensive about it as a woman or a mother. She wanted to support my household, showing it had as much legitimacy as the other household. She expected me to do the same by keeping things clean, decorated, well-stocked, and comfortable. But, ultimately she helped me keep the joy in the home by being there, having family around.
To her, showing up every Christmas and most Thanksgiving added much to my home's legitimacy (every other year, Thanksgiving is a dad's holiday on the parenting schedule). She lived in Southern Indiana, where I grew up, and we lived in Oregon, 1,953 miles away. She'd fly out, not us fly back because divorce lawyers have most all of my wealth. Sometimes the visit was brief because she had many other family obligations across the country place on hold. She maintained a dedication to those holiday family visits and, as such, participated in the tomfoolery of the Immaculate and Infinite, Holy Plastic Wrap Roll.
Nonie showed much reverence to the miraculous plastic wrap. The last Thanksgiving before her death, Nonie became a little worried because she thought she could see the end of the roll. Refusing to be the person to reach the end of the infinite, Nonie announced a refusal to put leftovers away through the entire four days of her visit. It was blatantly apparent to all she just wanted others to clean up after meals. We humbly abided.
Yet, the roll endured. Some random morning near the end of January 2018, I made some tuna salad. After eating some for lunch, I rapped the bowl and put the Salad in the fridge. Unfortunately, eight years after we made that Costco trip, the end of the infinite came to pass. I had a moment of silence to acknowledge this miraculous event; then, I opened the second roll. It's now 2021, and I still have not told my boys of first roll's demise. I won't need to say anything to them till sometime in 2026 if the second roll lasts as long as the first.
I believe the boys will always carry that silly tradition strengthing the bonds of our tiny threesome. That damn roll still sits in my cupboard, housed in decaying ruins of the decades-old original cardboard box. Even the boys' cats will cease to exist before that wrap does (DUDE! IT WAS 750 FEET). And of course, I'll be responsible for both the cats and the Stretch-tite. In the meantime, I desire that the telling of this little miracle might help booster hope for some folks. Here ends the story of the Immaculate and Infinite, Holy Plastic Wrap Roll.