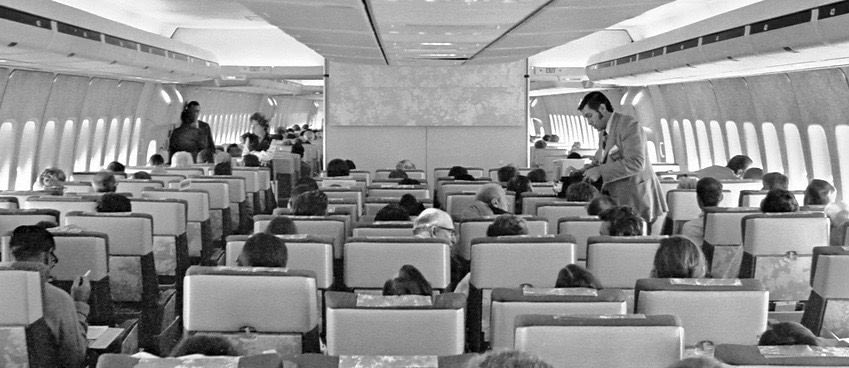 My first air travel experience took place in December 1988. I was on winter break of my sophomore year at Purdue University feeling pretty mature with a bushy mullet, preppy sweaters, sockless boat shoes, and a wool topcoat. My whole family (newly blended because of mom's remarriage to Bill LaFollette the year before) was headed to San Francisco from Louisville to celebrate their first anniversary. Now! Who in their right mind would take two teens daughters and a self-absorbed vicenarian son on their first wedding anniversary? The fact everyone sported wild 80s hair is also a clue to this newly wedded coupled judgment.
After changing planes to a shiny new Boeing 747 in Dallas/Fort Worth, The novelty of flight quickly left me, and I managed some sleep. Still, at some point, I heard my sister, Marla Ratliff (also experiencing her first jet travel), scream from several rows back and along with the window row. She was pretty flighty back then (pun intended), so I ignored her, rolled my eyes, allowing my new step-father to see my brotherly-contempt-of-younger-sibling-histrionics, and resumed my nap; Sleeping on a Jet Plane!.
The next thing I remember, the sounds of a loud thud followed by air screaming over ailerons roused me from my slumbers. Then I hear all the passengers of the 747 applaud loudly. From my middle seat in the middle aisle, I could see blue and red lights shining through the windows and dancing on the plane's top bulkhead as I rubbed the sleep from my eyes, but I interpreted it as some hypnopompic hallucination. When I finally got a glimpse out a window, groggy enough to still think I was dreaming, I saw Dallas/Fort Worth airport full of fire engines and other emergency vehicles, not the San Francisco skyline I had expected.
I later learned one of the new plane's engines caught fire about 10 minutes into the flight, and my sister, with a window seat overlooking the wing, watched it all unfold. The plane had to circle the city while dumping fuel, turn around, and have an emergency landing. I slept through the whole thing, but my mother had deep indentations in her forearm for the next several weeks where Marla's fingernails had held on for dear life.
Sleeping on a Jet Plane!
That was my first experience with air travel; completely different from my sisters sitting 4 rows back.