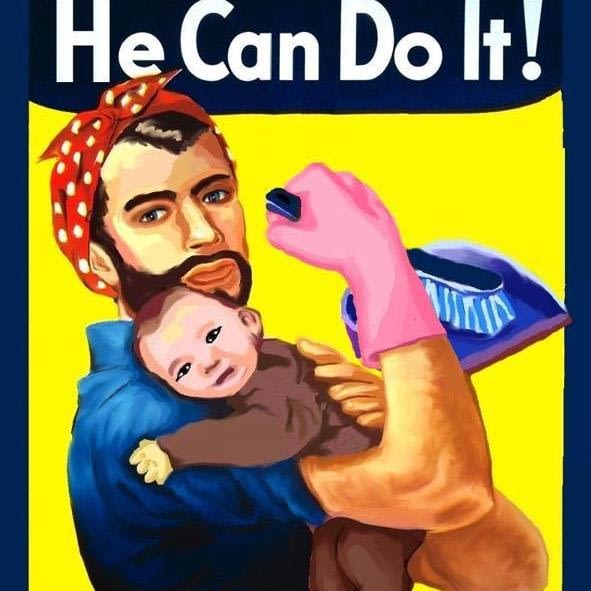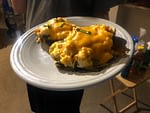 Print Recipe
Single Dad Hack - Cooking lessons - Twice-Baked Potatoes
Single Dad Hack - Cooking lessons number one, don't start a completely new recipe at 4:45 on a school night. It's 7:35, and the taters just jumped out of the oven. Second, you really only need four potatoes for three men, and six is way too much (actually, now that we're into the meal, we only needed three - will they freeze?). My twice-baked potatoes are loaded with sour cream, cheddar, scallions, bacon bits, mini pepperoni, topped with broccoli (not mine), a side salad, and Strawberry ice cream for dessert. And the third lesson, with six potatoes, you don't really need the broccoli, the side salad, or the strawberry ice cream(finding a way to ditch the broccoli was my plan all along). Top that, Mr. Other Single Dads! A little challenge to get our dad's vibes cooking (pun intended).
And the final lesson learned from cooking Twice-Baked Potatoes for the first time on a school night (It was more of an insight than a lesson), I fed my class of 2025 Aggie tonight! AND when he stuffed his 17-year-old mouth with twice-baked potatoes, looking not unlike a ground squirrel stuffed with nuts for burial, he said, "TmhmamTm'ms Rmemamlmy Gmomomd Dmamd!" I understood that perfectly; he loves my cooking! But, more importantly, he's going to hate dorm food! He'll be wantin' a Dad home-cooked meal and will come home just a little more! Ha! That's the best Single Dad Hack you can do.
PS. When viewing the photo, ignore cleaning supplies in the background. I am a single Dad, for goodness' sakes! I can't be expected to cook and clean AND put the supplies away (actually, I did that on purpose to raise my Super Dad score)!
Equipment
Baking sheet

Mixing bowl

Spoon

Knife

Potatoe Smasher

A son to eat what's left in the bowl
Ingredients
6

Russet Baking Potatoes

You have two growing boys; you have to have six potatoes, don't ya?

1

Big Ol' Bag

Bacon Bits

6 ozs or 9 ozs bag, whatever gets the job done (we're not going to measure anyway, this is a Single Dad Recipe!).

1

Cup

Sour Cream

Again, a cup, two cups, I don't know. It was a container - Single Dad Recipe measurements.

4

tbsp

Butter

I used somewhere between a half and the whole damn stick (there were 6 'taters, for goodness' sakes!).

1

lb

Shredded cheddar

It could have been more, it could have been less, you're getting the trend here.

1

Bundle

Scallions

1

Flower

Broccoli

My sons eat broccoli, I don't.

Salt

Pepper
Instructions
Wash, oil, place potatoes on a baking sheet covered with parchment paper, and place in an oven to bake at 350°.

Pull potatoes out of the oven and preheat oven at 350°. Help son with video production project and forget to put the potatoes in the oven for about 15 minutes.

Now, put the potatoes in the oven and cook it till you can say, "Fork 'em, they're done!" and mean it.

Scoop out the insides of the potatoes, forming a canoe. Don't worry about the canoe falling apart like it was just made of Burch bark. The rafts will get covered like a barge chugging down the Ohio River because they are now flat ones. Whoa, wipe your brow after that stretched metaphor. - Put the potato insides in a pot.

Dump the pot of potato insides into a large mixing bowl, as you misjudged how much potato guts you'd get out of one 'Tater!

Mix in everything but the broccoli (you're going to say, "Damn, I forgot the Broccoli," anyway).

Mix it up with the potato smasher and look in awe at how much potato guts and fixin's are magically growing in the bowl!

Pile up the potato guts and Fixin's in the canoes (for the ones that fell apart, remember your loading barges). Top with the extra cheese (if you didn't put the whole bag in the mixing bowl) and some extra scallions.

Put the potato canoes stuffed with potato guts back on the parchment paper and add the potato barges piled with its cargo. Put all back in the oven. Yell, "Damn," and turn the oven back on.

With the oldest son, listen to Robin Willims' bit on Golf and Scottland (full version). Forget about all about the Twice-Baked-Potatoes until the youngest comes in and asks, "when will dinner be ready?" Yell, "Damn!" again, dash off to the kitchen. Pull out the 'Taders, just as the cheese is starting to brown and the edges are a little bit crispy.

Dish them out! Marvel, how many 'Taders are left.

Beam with pride with your son says, "TmhmamTm'ms Rmemamlmy Gmomomd Dmamd!" Rush off to social media, post everywhere, so the world knows you are supper dad and your kids love you.