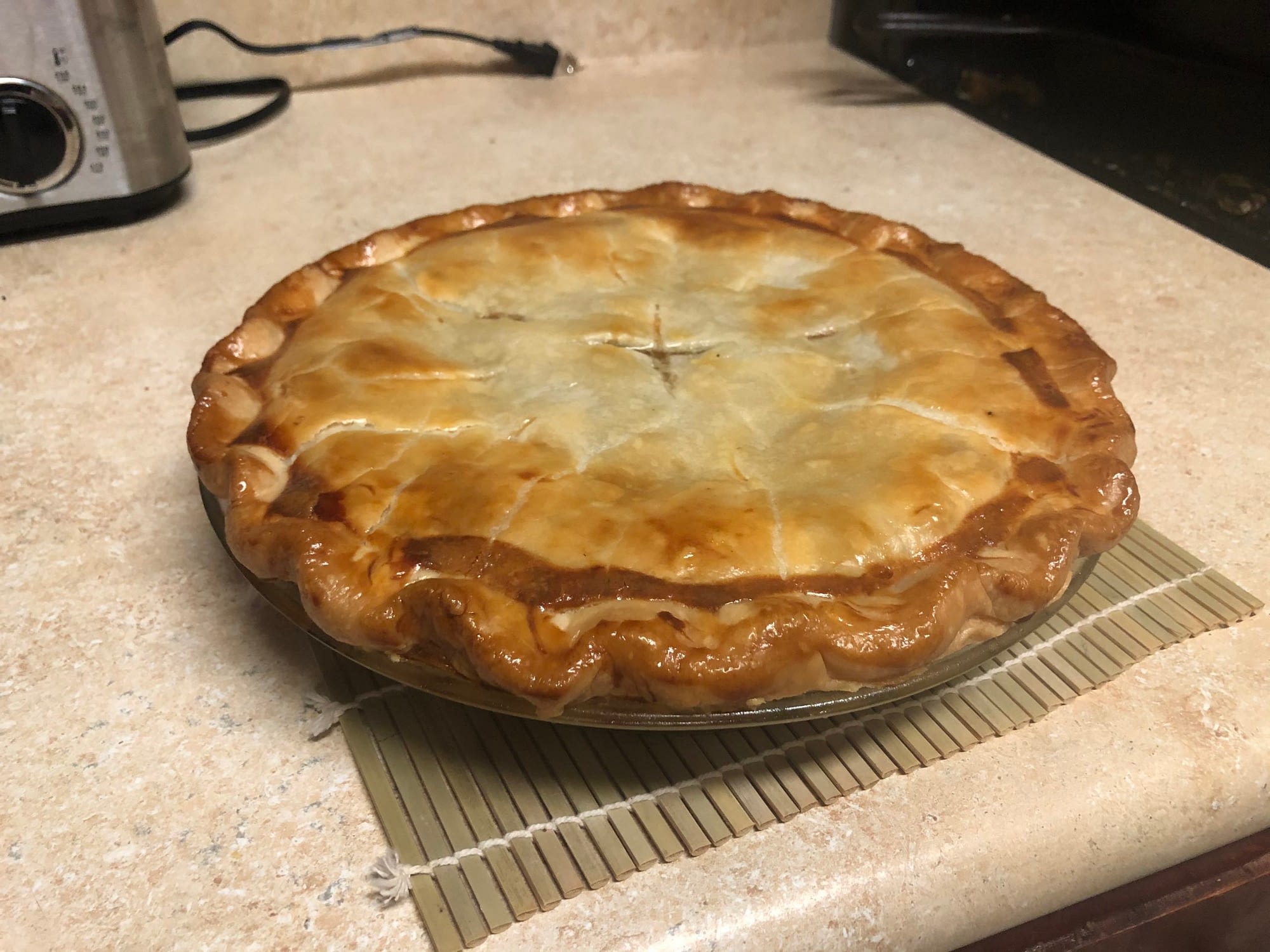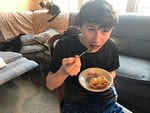 Print Recipe
Midnight on a School-Night Spontaneous Strawberry, Pineapple, Mango, And Peach Pie
It's 11:45 PM on a school night; Elias, my 15-year-old son, and I have our days and nights a bit mixed up, and we both are craving something novel. I blame it all on the pandemic quarantine, social isolation, and distant learning. We need some recreational therapy to help with improved sleep hygiene, diversion, mindfulness, social engagement, and movement toward self-actualization. If only we knew any wreck-therapists.
I always have a couple of Bake House Creations Pie Crusts boxes on the top shelf of the frig, supporting my savory pie habit. I just opened the freezer and discovered a full bag of Season's Choice: Tropical Blend – Frozen strawberries, pineapple, mango, and peaches. Plus, I spotted an open, practically untouched, second bag of the same jammed between a bag of peas and a pork tenderloin.
Heck, I'm not much of a sweet pie baking kind of guy, but isn't all I have to do, is dump the fruit into the crust and mix in a conglomerate of butter and sugar, put on a top, and bake till done? So, I did an internet search for "strawberry, pineapple, mango, and peach pie recipe" as kind of a lark. Then, wham, bam, thank you, ma'am, I hit on a webpage!
The page just confirmed my suspicions; dump in fruit mixture and layer with some goop made of sugar, flour, and butter. So, now I'm convinced a strawberry, pineapple, mango, and peach pie is most doable and quite possible a new thing I can claim as my own (ignoring the webpage that outlined the exact recipe based on a peach pie).
I got some encouragement from some social media friends. Recreational therapists are good at that; get your leisure on.
I had almost double the amount of fruit than the templet website did, so I almost doubled the rest of the ingredients.
The fruit thawed some as I typed this. But I'm not going to wait till it thoroughly thaws, am I? Who'd do that at midnight on a school night?
Equipment
Pie Plate

Pastry Brush (I used a paintbrush from under the sink. Nooooo, I'm joking. Maybe.

The Old Fashioned glass or rocks glass 
Ingredients
1

6 oz bag 

Season's Choice: Tropical Blend – Frozen strawberries, pineapple, mango, and peaches

1

Opened bag 

Season's Choice: Tropical Blend – Frozen strawberries, pineapple, mango, and peaches

My son had opened this bag at some time and, presuming, eaten a few chunks.

2/3

Cup

 all-purpose flour

I threw in a little more cause… well hell, this is an experiment, and Professor Stumbo told me I needed flower to absorb the extra fluid from the frozen fruit

2

Cups

Brown Sugar

1

Tbsp

Ground Cinnamon

Okay, I'm just lying here about the measurement. I shook the bottle until the smell made me think, "that's too much"

1/2

cup

Butter

I guesstimated here, too; it might have been a little more. The butter should set out on the counter for 20 minutes to soften.

1

Box

Bake House Creations Pie Crusts

1

Egg

1

oz

Woodford Reserve Kentucky Bourbon

The good stuff

2

oz

Evan Williams Kentucky Straight Kentucky Bourbon

The cheap stuff - Okay, I see a trend here in lying about measurements.

Ice
Instructions
Pour the Woodford Reserve in a glass, drink, switch out laundry, fold the dry load, beg son to help, and post grandiose baking plans on social media to allow for time so that the pie crust dough warms to room temperature (a must or it will be too brittle to unroll) and the fruit to thaw.

Use the butter to grease a 9-inch pie pan lightly.

Use the butter to grease a 9-inch pie pan lightly.

In a mixing bowl, cut the butter into small pieces, pour in the sugar, flour, and sprinkle in the cinnamon. Mix with two forks until crumbly.

Mix in about a ¼ of the butter-flour-sugar-cinnamon concoction with the fruit combination. Continue to blend until the fruit has a beautiful coat of goop.

Line the bottom of the pie with half of the fruit. Cover the fruit with half of the remaining butter-flour-sugar-cinnamon amalgam. Then layer the rest of the fruit into the pie shell and cover with the last of the butter-flour-sugar-cinnamon combination.

Unroll the second pie crust on top of the mound of the fruit-butter-flour-sugar-cinnamon goodness (yes, I ran out of synonyms for "mixture").

Pinch edges of the bottom and top crusts together, forming the cutesy scalloped pattern that everyone thinks is difficult.

Break the egg into a small bowl and mix it with a pastry brush to prepare the egg wash. Brush the egg wash onto the top crust.

Cut vents in the center of the top crust.

Drink the Evan Williams and fold the next load of laundry while the pie bakes for 50 minutes, or until crust is golden.

Turn off the oven, crack-open oven door, and let cool in the oven for as long as you can (I understand this helps the fruit set thicker).

Go to sleep; it's a school night (morning), for crying out loud.

Wake and eat pie for breakfast (Okay, brunch, I'm not fooling anyone).

Post photos of the finished pie, so everyone thinks your supper, dad. Drop a hint that all the laundry is also finished for the same effect.