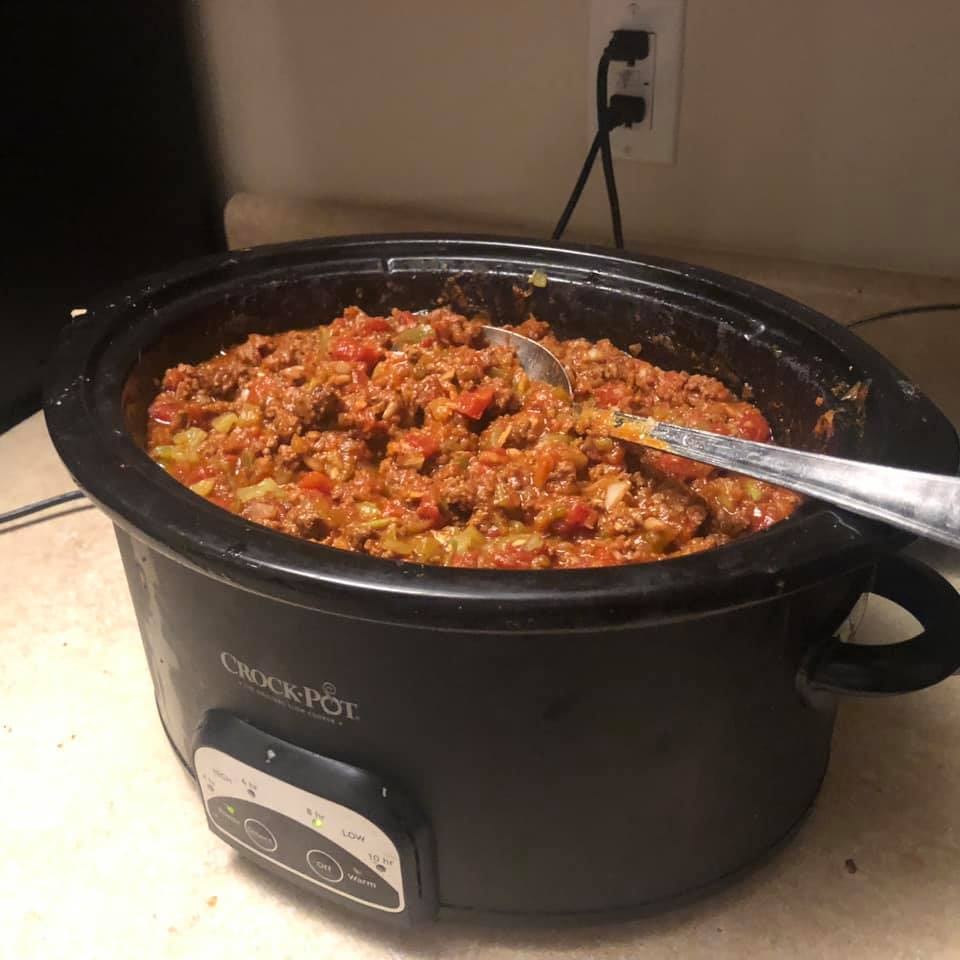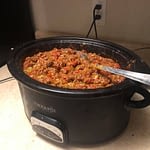 Print Recipe
Dad's Feed an Army of 3 Chili! - Single Dad Recipe
This chili recipe is an emergency recipe. I usually would not use all the canned ingredients if I could help it. So, when hatch green chili is not in season, I'm generally in trouble. I've lived all over the country, which allows me to blend many different regional styles of chili to form my own. Most always, my chili is improvised. I do have a few rules. First, at 52 years old, I can damn cook chili without any beans in it. Second, a spiced-up hamburger is not chili. My chili needs to feature chili, not the meat, usually hatch green chili. That said, here is the chili I did tonight. It turned out fantastic!
Anyway, I accidentally bought 5 lbs. of hamburger instead of the 3 lbs. I had intended. And for some reason, I didn't catch the error until I had started browning it. The fact, it was overflowing with my 12' cast iron skillet should have been a clue.
Anyway, my usual recipe was now out of whack, so I just started improvising. Saying I'm going to start improvising is odd as I always improvise when I cook, so this was improvising on top of improvising.
Anyway, it's all in the slow cooker for the next 10 hours. Look over the ingredients list, tell me what you think, how many servings I will get (25?). The goal of this batch is to freeze for my sons to use as frozen dinners.
Anyway, I have overused the word "Anyway" in excess of two extra pounds of hamburger.
At the first tasting, about an hour into the "slow and low," I'd say, "The chili had a sweet chunky start with a lingering heat." But no real kick. That's when I decided to add the tiger sauce and cayenne pepper! The cayenne sure shored up the front end. My eyes watered from the tasting. The Tiger Sauce will take care of the tail! But, It'll need a full 10 hours in the crockpot to "slow and low" blend all the tastes.
Servings:
12
Large Servings
Equipment
Slow cooker

12' cast-iron skillets

Cooking spoon

Food processer

Freezer strength zip-bags
Ingredients
5

lbs.

Lean hamburger

browned and drained

3

Large

Chopped White Onions

3

Large

Chopped Green Bell Peppers

I left about half the seeds

3

10 Oz Can

Casa Mamita Original Diced Tomatoes with Green Chilies

3

4 Oz Can

Hatch Select Diced Green Chilies - Hot

2

6 Oz Can

Happy Harvest Tomato Past

2

8 Oz can

Happy Harvest Tomato Sauce

2

1¼ Oz Pack

Stone Mill- Original Chili Seasoning mix

1

Tbsp.

Coarse Sea Salt

2

Tbsps.

Garlic Power

3

Tbsps.

Ground Cayenne pepper

1

5 oz bottle

Tiger Sauce The Original
Instructions
Mix all in a large slow cooker set on low. Let cook for 10 hours.

Place 2 cup portions into sandwitch baggies and then into quart size freezer baggies.